Enjoy the best calculations and functions combined together
Klarem is a suite of software for the Microsoft Windows operating system that you can download to your PC, laptop or notebook. Klarem enables you to easily make multi-line, multi-unit, dual-currency calculations whenever you need.
Klarem has been designed to make difficult DIY calculations easy, even for those without any understanding of the maths involved.
Let's face it. Most of us don't regularly perform arithmetic in our heads these days! Even if we have a piece of paper to hand how quickly do you think you could check this calculation, which you might need to do for tiling purposes:-
17ft 6in ÷ 12 3⁄8 in => 16.97 ft
Here's another one you might need to calculate should you find a metric measurement on a can of paint when you know your coverage in an imperial measurement:-
15 sq.ft/gal x 10 litres => 33.01 sq.ft
At www.diycalculations.com we like to make life simple for everyone involved in purchasing materials for Do-it-Yourself projects.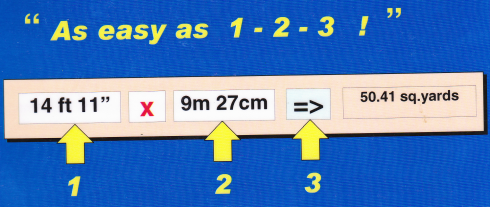 Not only will our full suite of Klarem software make your calculations but also it will:
* advise you of the minimum wastage allowance you should allow for tiled surfaces;
* how to specify gaps for windows and doors;
* allows you to automatically calculate the cost of required underlay rolls;
… and that's just for tiling!
The Tiling Calculator is the first module to be released as a special pre-launch offer so why not try it out now and save even more money.
When all the Klarem software has been made available for purchase at our launch date later you will find it is useful for wallpaper calculations, laminate flooring calculations, painting, decorating, and all sorts of building work.
In brief, you will be able to use it whenever you need to make sure you keep costs down by only purchasing what you need, rather than playing safe and over-estimating. Why end up with surplus materials that are difficult to dispose of as well as paying out on unnecessary expense, when you can simply and quickly work out exactly what you need to get the job done properly?